Borth RNLI Lifeboat Station
Crew paged at 7:40pm to reports of people struggling to get ashore in rubber rings. The crew were stood down before launch as the people had managed to get ashore on their own.
2015, July 29 - 4 people cut off by tide.
Borth RNLI inshore lifeboat (ilb) launched to reports of 4 people cut off by tide in the Clarach area. When on scene Borth ilb joined Aberystwyth ilb to assess the scene. Borth ilb landed on the beach picking up 3 of the casualties before landing them on Clarach beach where the local Borth and Aberystwyth HM Coastguard teams were there to take care off them, with the 4th casualty being winched up by the HM Coastguard helicopter @UKSARRescue936. The Borth volunteer Crew were Peter Davies, Tim Ellis Clarke and Rhys Gardiner. The Tractor driver was Louis Delahaye.
Borth and Aberdyfi RNLI lifeboats were tasked in the afternoon by HM Coastguard to assist with reports of persons in the water off Tywyn. The Aberdyfi lifeboat recovered an unconcious mand from the water. The Borth lifeboat was stood down before it reached the scene.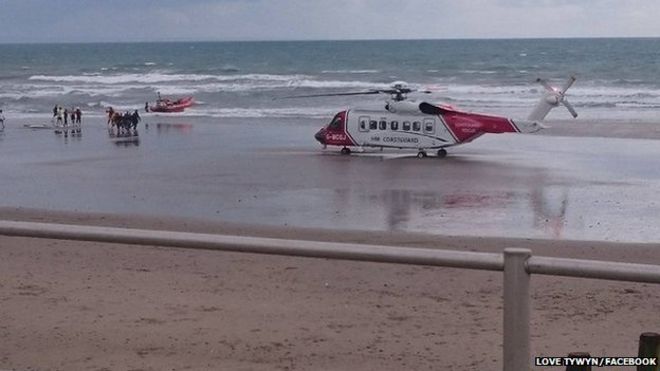 A 74-year-old man was recovered unconscious from the water at Tywyn, by a crew from Aberdovey RNLI Lifeboat at 16:14 BST on Saturday. He was flown to hospital by the coastguard rescue helicopter but later died. The girls were taken to hospital as a precaution.
Lifeboat was called out to reports of people in the water off Borth Head. The casualties were simply swimming, taking advantage of the good weather. Saw some dolphins too.
2015, May 28 - Search for a missing man.
RNLI lifeboats from Aberystwyth and Borth joined Aberystwyth and Borth HM Coastguard teams, Dyfed Powys Police and the Police and RAF rescue helicopters in a search for a missing man. The man was found safe and well.
2015, May 4 - Fisherman washed overboard.
Borth lifeboat tasked to assist a fisherman washed overboard just off ynyslas. Fisherman was taken on board ilb and boat towed back to Aberdyfi. Helm Pete Davies, crew Rhys Gardner and Joey Bean
2015, April 4 - Search for a kite surfer.
Borth lifeboat was called out to search for a kite surfer in trouble. The volunteer crew was Pete, Martyn, Gavin and Freddie. Tractor driver Derek. The Kite surfer made own way to shore.
The RNLI is the charity that provides a 24-hour lifesaving service around the UK and Republic of Ireland. Our volunteer crews give up their time and comfort to carry out rescues in difficult and often dangerous conditions.
There has been an RNLI lifeboat station at Borth since 1966; read the History of Borth lifeboat station and Station Honours. You can visit Borth lifeboat station most days when the shop is open (see below), and ask to be shown around. The crew trains every Sunday between 10-00 and 12-00, and we welcome visitors and prospective volunteers.
Your support is vital in training and equipping our volunteer lifesaving crews. If you want to support us, either by becoming a crew member, a support officer, working in the RNLI Shop, or by making a donation locally please contact us, email info@borthlifeboat.org.uk or follow us on Social Media.
Google+
Volunteering at Borth Lifeboat Station
If you are aged betwee 17 and 40 you can join the Borth volunteer crew (17 year olds need parental consent) subject to a medical. If you are not yet 17 why not get in touch and we can explain what is required and ensure that you are ready to take up this interesting challenge when you come of age.
Being part of an RNLI volunteer lifeboat crew is a major commitment, where Borth RNLI lifeboat volunteer crew members may have to risk their lives to save people in peril. The commitment isn't only measured in the time spent involved in rescues; new equipment and boats mean that regular training programmes also account for much of their spare time.
To become a Borth RNLI Volunteer Crew Member, simply email volunteer@borthlifeboat.org.uk or come to the lifeboat station between 10am and 12 noon on any Sunday and ask to see Ronnie.
RNLI Volunteers are also required to help fundraising and organise events to support the work of our volunteer lifeboat crews. If you are able to help please email margaret@borthlifeboat.org.uk.
The Borth RNLI Shop is run by volunteers and thus does not have set opening times but it is open most days during the summer months. If the Borth RNLI shop is not open when you visit, there is a notice in the window next to the shop telling when it will be open next.
The Borth RNLI shop carries a range of gift ideas, toys, clothing, products for the home, garden and much more.
As the RNLI shop is manned by volunteers 100% of profit goes directly towards our vital life saving work.
Supporting the RNLI whilst shopping with Amazon couldn't be easier. If you use this link to complete your purchase Amazon will donate a minimum of 5% of the value of your order to the RNLI.
Borth RNLI Lifeguards
The RNLI provides Lifeguards in Borth for the summer season. The RNLI Lifeguards patrol the area of the beach near the lifeboat station. Their presence makes a significant difference to the safety of users of Borth beach.
RNLI Shorething
The RNLI's site for young people is crammed full of activities and games.
Photos of Borth RNLI lifeboat and lifeguards
If you send us any videos or photographs which you have of the Borth inshore lifeboat or lifeguards we will post them in our videos and photo gallery. It would be nice if you could provide a story and dates to go with any that you send.
Weather and Tides
The safety of seafarers is at the core of everything we do so to help Borth water users we have linked in a page of Borth Tide Tables and Weather Forecasts. Please check these before you launch, but always be aware of the conditions as you see them as forecasts can be wrong.
Borth RNLI lifeboat station on Social Media
The official RNLI site for RNLI Borth Lifeboat Station is maintained and kept up to date by our local support team.